Nola Henry Curtis Bear
We recently acquired this interesting piece off of eBay and are at a loss to explain it's origin. The bear itself is Nola, designed by Nola Hart. Nola was introduced in 1994 and retired in 1997. This particular one has the red and white tacked tush tag as shown below and is dressed in a cape, feathers and a clock attached at the collar. The hang tag attached states "Handmade 'Henry Curtis' Collectibles" and is signed by Edward Henry and Stephen Curtis. Ironically, Boyds acquired all of the issued and outstanding shares of capital stock of H.C. Accents, on November 3, 1998 as disclosed in their year end 1999 Annual Report. If anyone has any information on this particular piece or similar pieces we would love to hear from you.
The seller indicated that the price tag is from Marshall Fields and carries a retail price of $32.00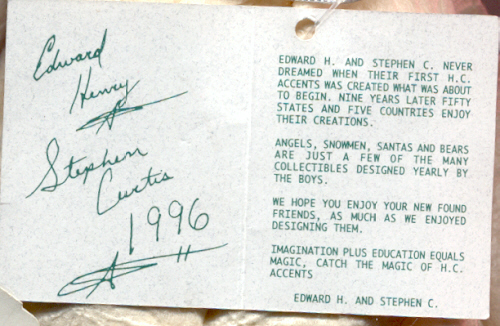 The inside of Nola's hang tag signed by Edward Henry and Stephen Curtis in 1996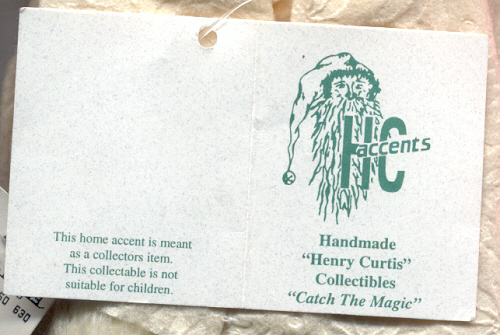 The front and back of Nola's hang tag
| | |
| --- | --- |
| | |
| Ty's red and white tush tag | The watch Nola wears at her collar |
Copyright © 1999-2002 Sally E. Grace
All rights reserved. No portion of this web site, in whole or in part, including but not limited to pricing and related information, may be copied, reproduced, distributed, republished, uploaded, downloaded, posted, or transmitted in any form or by any means without prior written permission from the author, Sally E. Grace.